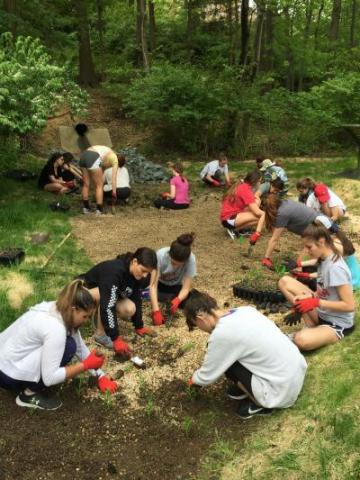 Your unit, office, team, sorority, club, team, fraternity, or any other group can now Adopt-a-Garden on campus! By adopting a garden you can check off an action towards the Office of Sustainability's Green Office, Green Terp, or Green Chapter certification and help us cultivate our living campus. Our entire UMD campus is a world-class arboretum and you can help cultivate native plants, pollinator gardens, rain gardens, edible landscaping, and more! 
Arboretum horticulturists and staff will work with you to select a garden area that is meaningful to you and needs some extra TLC, then coordinate monthly volunteer events with your group. Volunteering should take place at least once per month with a total of at least five hours of volunteer time to meet the minimum requirement. This can take place during your lunch hour, or before or after work if you are staff or faculty but we also have Saturday availability as well. 
Volunteer tasks are hands-on and require you to push up your sleeve and get dirty. We will weed, prune, spread mulch, and plant and bending and kneeling is required. Gloves, tools, and instruction is provided and through this program we hope to develop a connection with our friends across campus and give you a deeper understanding of the sustainability efforts here. 
Interested in participating or learning more? Email us or use the link below:
Sign up Link: https://forms.gle/x6pc6p6oXHVf5r97A