Margulis-Antonov Family Garden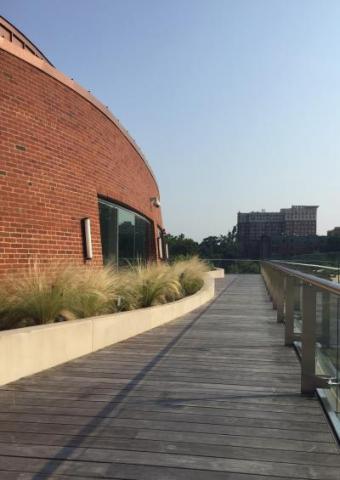 The Margulis-Antonov Family Garden is a place for building community, where students can take a break between classes, get some fresh air, and take in the view of Hacker Green and Paint Branch Creek. The patio garden sits atop the Antonov Auditorium and includes benches, plantings, and views in many directions. These planting areas feature Hostas, Fragrant Sumac, Japanese Maples, Mexican Hairgrass, and Yarrow. 
The University of Maryland is a place where Michael Antonov (B.S. '03 Computer Science) met a family of fellow alumni including Brendan Iribe, Andrew Reisse (B.S. '01 Computer Science and Mathematics) and many others who have been life-long business partners and friends. Michael is grateful to his parents for sending him to Maryland and for supporting his life and career. 
Michael and Natalia Margulis, parents of Michael Antonov, grew up in St. Petersburg, Russia. They love being surrounded by native plants, orchids, and beautiful art. It is their hope that this garden will be a place for new friendships to sprout and grow. 
Created by Michael Antonov in honor of his parents and his Maryland Family.