Arboretum and Botanical Garden
The University of Maryland's 1250 acre College Park campus is a convenient and easily accessible arboretum.
What's Happening at the Arboretum
Featured Plant
Japanese Cryptomeria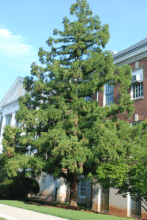 The Japanese Cryptomeria (Cryptomeria japonica), from Japan and Southern China, can be found on the University of Maryland campus at the H.J. Patterson building.