Rycroft Memorial Sculpture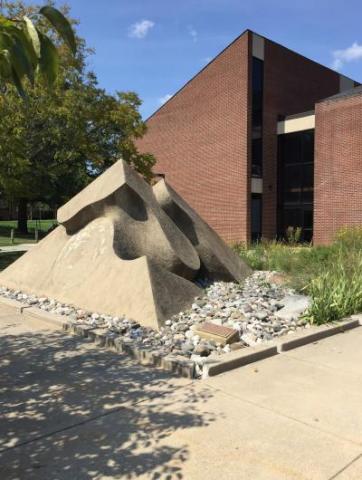 An untitled sculpture stands behind the Architecture Building. It was given in memory of Herbert E. Rycroft II and sculpted by Raymond Kaskey in 1972. It is known generally on campus as the "Rycroft Memorial Sculpture" or "The Pyramid"1. In 1972, John Hill, the dean of the School of Architecture at the time, was given a monetary gift to create a memorial to Herbert Rycroft, an architect who worked for the Baltimore firm of Fisher, Neff and Campbell, the architects of the new architecture building at College Park. Mr. Rycroft passed away from a heart attack in his early forties and thus the idea of a memorial was proposed by his aunt, a Mrs. Barr of Chicago. With donated materials and some student labor and donated time from the artists, the Pyramid was constructed over the summer of 1972, in time for the dedication of the building. While not a four-sided pyramid it is obviously related to the more traditional memorial form. 
Raymond Kaskey is a sculptor working in the Washington, DC area, whose notable project include architectural sculptures for the National World War II Memorial on the National Mall as well as Portlandia, a 38-foot-high hammered copper sculpture on the Portland Public Services Building in Portland, Oregon2.
The 'Orange Peel' Cestrum, a hybrid between Cestrum diurnum and Cestrum nocturnum there makes a wonderful pollinator plant!
1. MAC to Millennium: The University of Maryland A to Z, ​https://www.lib.umd.edu/macmil/leta
2. Raymond Kaskey, https://www.kaskeystudio.com/statement.html