Lt. Richard Collins III Plaza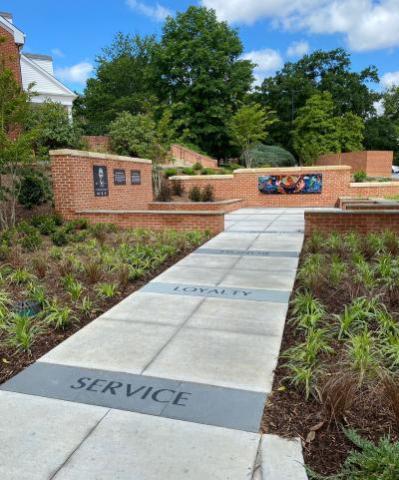 Lt. Richard Collins III Plaza is located near Montgomery and Annapolis halls, overlooking the bus stop where he was killed, and it is designed to provide a sense of calm and reflection. The space is modern in design, incorporating materials that match the historic architecture of the campus core. The plaza includes two walls, one featuring a laser-engraved granite plaque honoring Collins, and a fountain at the base. The second wall sends a message of hope through a replica of the Unity Mural. The area is planted with crepe myrtle trees, ninebark shrubs, liriope groundcover, and red azalea bushes. The Lt. Richard W. Collins III Plaza is meant to honor the legacy of and inspire social justice work on behalf of Lt. Richard Collins III, a Bowie State ROTC student who was murdered on campus by a white UMD student.
Read more about the dedication here: https://today.umd.edu/hundreds-gather-to-dedicate-lt-richard-collins-iii...